I'm blushing right now! This has been a very lucky week for me. Many of you know that September was a stressful month for my family. I'm just hoping that October keeps on this path. Maybe things really are starting to look up...Finally!
September 30th: I Won a New Shirt from 'Frugality Is Free' and Alight
October 1st: I Won a 'Pillsbury Sweet Moments' Chocolate Spa Kit
Each week a Top Frugalista is featured at
'Frugality Is Free,'
and the Top Frugalista gets a free ad space at Frugality Is Free for an entire week. I'm trying to increase my blog followers, so this is a great honor. THANK YOU!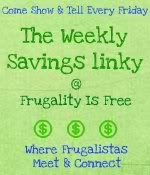 If you haven't already checked the 'Frugality Is Free' blog, I highly recommend it! Lots of great giveaways and the blog is simply amazing!