Welcome to
Follow Us Monday Morning
- the
Monday blog hop
and Google friend follow here at
Being Frugal and Making it Work
and
Frugality Is Free
. This is the place where we casually meet and greet, have a little conversation and expand our blogging networks.
I am honored to have been chosen to represent the 'Us' in
Follow Us Monday Morning
! My co-host,
JR
from
Frugality Is Free
are looking forward to meeting new friends. I know that we have so much to share and so much to learn from one another.
Each week we will feature a blog as
Hot Blog of the Week
, and we will post a question to get the conversation started. The
Hot Blog of the Week
will get the first place in the linky, and the featured blogger will win a free ad space here at
Frugality Is Free
for a week.
The Hot Blog of The Week is:
**********************************************
HOT BLOG OF THE WEEK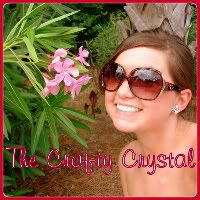 The Crafty Crystal is written by Crystal, who is a recent college graduate. She loves all things crafty, and at the Crafty Crystal she shares all of her crafts, ideas, thoughts about life and more.
Crystal has been sharing lots of Christmas crafts on her blog, so if you need a little inspiration, it is a great place to stop by
.
Congratulations Crystal!
You have won a feature, a free ad space for a week at Frugality Is Free and the third spot in the linky.
*********************************

Follow Us Morning

Feature BONUS!!!
As a new bonus, the
Follow Us Morning
Featured blogger will win a
FREE
ad space for a week at
Frugality Is Free
.
Tip:
The best way to gain more followers during a blog hop is by following others first, and leaving a link back so that they can easily find you. So don't forget to let someone know, if you are following their blog. One way to do this is by commenting and leaving your clickable blog signature (see below).
To participate:
Answer the
Follow Us Monday Morning
question (in the comment area or in a post) and post the button in your post. This is not mandatory, but it sure is appreciated, as it will help spread the word.
**********
Question of the Week
**********
Question of the Week:
Do you have any holiday traditions that are very specific to you family or your family's culture/heritage?
My answer:
I started a family tradition after my first son was born, almost 10 years ago. I buy my kiddos each a new pair of Christmas jammies to wear to bed on Christmas Eve. That way, in Christmas morning photos they are cute and festive!
**********
Do you want to be Hot Blog of The Week?
•Blog about Follow Us Monday Morning (leave direct link)
•Post the Follow Us Monday Morning button in your sidebar (leave link)
•Tweet about the Follow Us Monday Morning Blog Hop (leave link)
***If you do any of the above, please leave a link and let us know in the comment field, otherwise your entry might not be counted***
*
*
*