Welcome to
Follow Us Monday Morning
- the
Monday blog hop
and Google friend follow here at
Being Frugal and Making it Work
and
Frugality Is Free
. This is the place where we casually meet and greet, have a little conversation and expand our blogging networks.
I am honored to have been chosen to represent the 'Us' in
Follow Us Monday Morning
! My co-host,
JR
from
Frugality Is Free
are looking forward to meeting new friends. I know that we have so much to share and so much to learn from one another.
Each week we will feature a blog as
Hot Blog of the Week
, and we will post a question to get the conversation started. The
Hot Blog of the Week
will get the first place in the linky, and the featured blogger will win a free ad space at both
Being Frugal and Making it Work
and
Frugality Is Free
for a week.
**********************************************
HOT BLOG OF THE WEEK
Living At The Whitehead's Zoo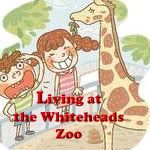 Living at the Whitehead's Zoo is written by a stay-at-home mom from Gainesville. She has three children ages 14, 12, and 2 years old, and she enjoys every moment. At Living at the Whitehead's Zoo you can find a little bit of everything including tales from family life, craft projects, giveaways and much much more.