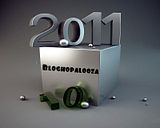 Your 5 Blog Hostesses
1. Mommying On The Fly
2. Life With Twins and Multiples
3. Family Organic
4. The Thompson Twins
5. TwinHappy
Just a few suggestions to keep the party going smoothly... and ensure it serves it's purpose... (finding new blogs, making new friends, and getting a few great, loyal followers... OH and that ever so coveted.... comment love... let's not forget THAT.. lol)
Please:
1. Follow the first 5 blogs..
2. Leave a comment letting us know you followed... so that we may follow back
3. Feel free to add the badge on your site... fly it PROUD
4. Feel free to blog about it and add linky... After all it is about spreading the word
5. Follow others, leave them comments and have a blast!!!!
OK Bloggerific readers... Let's party like it's 2099...
Click em' and Link em'